Our split system air conditioning and heat pump outdoor units all have fully louvered panels to protect the outdoor coil from damage, as well as tough powder paint finishes and weather-resistant screws. We are the only manufacturer to offer the patented all-aluminum Spine Fin outdoor coil. Our Spine Fin outdoor coils provide greater heat-transfer capabilities, thus resulting in higher efficiencies and greater resistance to corrosion than traditional copper/aluminum coils. Our XV20i heat pump is among the highest SEER (cooling efficiency) and HSPF (heating efficiency) ratings in the industry.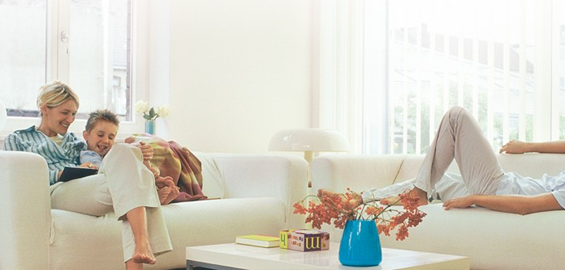 Our variable-speed furnaces and revolutionary Hyperion air handlers can do things other manufacturer's products can't, such as superb humidity control with Comfort-R. This feature allows the coil to get cold faster and the furnace blower to slowly ramp up and down, or to operate at 50 percent of cooling speed in the "Fan On" position. This provides greater air circulation and filtration, even temperature distribution, humidity control, and quiet performance. Variable-speed motors are the most efficient motors as well, increasing the overall efficiency of your heating and air conditioning system.

And when it comes to cleaner air, our revolutionary Trane CleanEffects is the industry's most effective whole-home air filtration system, capable of removing up to 99.98% of the allergens and harmful particles from your family's air.