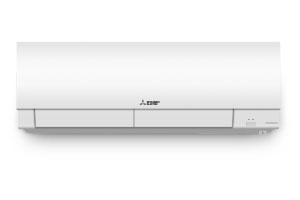 Wall Units
The MSZ Series wall mounted indoor units offer functional design, quiet operations and comfort. With multiple operating modes, multiple fan speeds, and multiple airflow directions, these units fits the needs of nearly any room.
Advanced Filtration System Two advanced filters to clean and deodorize the circulated air. The deodorizing filter absorbs any offending smells, while the second is an enzyme-based anti-allergy filter that captures and destroys bacteria and particulates.
I-See Sensor 3D (FH Units Only) Monitors its zone for fluctuations in temperature. If it detects an underserved area, the unit will temporarily direct airflow to that area. It also enters energy saving mode if no human heat signatures are detected.
Hot Start technology prevents cold drafts by delaying fan operation until the heat exchanger has warmed up.
Vane Control Two vane control options, standard and wide. Auto mode selects the best vane position based on operating mode while swing mode cycles through each vane position.